Although Ecuador is still unknown to many, it has become a sought-after destination by more and more people; it is a land of incredible wealth increasingly discovered by travelers from around the world.
The warm and friendly people of Ecuador welcome visitors from all countries and help provide the travel experience of a lifetime.

Located in the Pacific Ocean, The Galapagos - Ecuador's enchanted archipelago - lies on the equator at 600 miles off the coast of Ecuador.
The Islands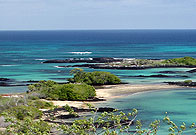 The Galapagos Archipelago, or Province of Galapagos, is made up of 13 islands, 16 islets and 47 rocks
Boats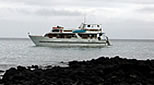 Turisaven offers you several options of boats and itineraries in order to fit your expectations and needs.
All our boats have cabins with private bathroom and shower, English-Spanish naturalist guide and a very friendly crew.